Falmec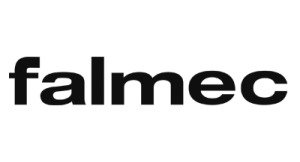 Just kitchen cooker hoods. The value of Falmec cooker hoods and extraction systems is based on a precise dedication to specialisation. A dedication which, since the dawning of the company, has been demonstrated in its choice to exclusively manufacture this type of product, in order to concentrate its technological know-how in a single area and thereby achieve excellence. This is why Falmec cooker hoods represent the absolute best in functionality, performance and durability, and why they guarantee clean air to the environment, which is always perfectly purified of odours and fumes. In addition, their refined design furnishes the kitchen space in elegant harmony with contemporary style trends.
Only the best steel. When manufacturing a top of the line hood, the choice of materials obviously plays a fundamental role. For this reason, Falmec selects and uses AISI 304 stainless steel made of an 18% chrome and 8% nickel alloy. Hygienic, easy to clean and extremely resistant to corrosion (as demonstrated by laboratory testing carried out in a saline mist environment), AISI 304 is, without a doubt, the best material to be used in the kitchen environment. The Fasteel imprint-proof steel also contributes to the uniqueness of Falmec extractors. The surface always remains beautiful and shiny thanks to the innovative "no finger prints" technology that does not allow any streaks to form.
Our dedicated team at Falmec ensures that all our customers' requirements within regards to certifications are met. Falmec is ISO 9001 certified and all products are manufactured in accordance with the IMQ. We have also attained certifications specific to Russia, USA, Canada, China, Korea, Japan, Australia and Taiwan.
Committed to excellence, Falmec is your absolute best choice.